Hentai Of Your Favorite Characters Can Get Fucking Weird
Wednesday, January 30, 2013
this entry brought to you by darren korb, "brusher patrol"


When I was about 20, I semi-frequently perused a particular hentai site. And not just any hentai-- I wanted fan art of my favorite video game characters.

I can't say that I'm ashamed of it, but I'm not exactly unashamed about it, either. Still, I'm more willing to admit it now that I'm thirty and personally know four women who have masturbated to cartoon porn. If you just know a bunch of dudes that have done it, what you've got is a gross, pathetic fetish club. When you know several chicks who admit to being into it, it makes those times spent in your early twenties much less shameful. Still, I feel like I have to mention that I have not done this in a while, and even at the time, it's not that I preferred masturbating to cartoon porn. It's just that when you're 20 and bored and you've masturbated to all the porn in the world, eventually you want some variety.

Anyway, with that out of the way, let me explain cartoon porn based on your favorite fictitious characters a little more.Here in the western world, if you want to see your favorite fictional characters having sex-- say, Batman and Wonderwoman-- the quality of the artwork is going to be questionable, because people who can actually draw don't waste their time with this, as there is no money in it. Sure, you might find some really high quality stuff from someone who is really passionate about seeing Batman and Wonder Woman fucking, but since doing a drawing that looks better than those stupid banner ads of Homer and Maude Flanders doing it that you see on low grade porn sites actually takes time, it's difficult to spend a lot of time working on something you can't really share with anyone.

In Japan, companies turn a blind eye to fans making porn with their characters. In Japan they have something called doujinshi hentai, or literally "perverted fan art". And there are conventions where people can make their comics of their favorite characters fucking, and sell it to other fans who want to see that. I should probably mention that this is a very, very, very niche thing in Japan, and it's not like you'll make a lot of money off of it, but you could sell a couple hundred copies at a convention and help pay rent, and no company is going to bother sending cease and desist letters.

The point is, finding professional quality work of your favorite characters isn't difficult when it comes to Japan, so I went perusing naked pictures of my favorite Street Fighter characters. When you're single, 20, and bored in the middle of the night, these sorts of things come up.

What was really weird about going to this particular hentai website was that it had thousands of fan art, and good chunks of it were professional quality, it was like a weird back-door peek into the subconscious of Japan, because there were all sorts of weird themes that would come up over and over again with specific characters. It was as if there was a meeting somewhere, and all the Japanese perverts agreed to the sexual subtext of each character.

Don't worry, I'm going somewhere with this.

Chun-Li is my favorite video game character, so any time I go looking up hentai-- which isn't often anymore, but get off my fucking back!-- it's generally Chun-Li related. In the game, Chun Li is a very strong-headed, tough lady. Her post-fight quote in the old days was "I'm the strongest woman in the world!"




If you're familiar at all with Japanese porn culture, it should come as no surprise that on the website I went to a lot, Chun-Li was often depicted being tied up or raped. This was unfortunate, but it's also very, very common in Japanese porn culture, and it made a strange sort of sense that a dominating character would, to a Japanese sex fantasy, be subjugated. It was unfortunate and disheartening, but it's not like I was surprised. Have you ever seen Japanese porn, live-action or otherwise? Rape is how you say "You know, you have the prettiest eyes" over there.

I should also mention that there's plenty of non-rape Chun-Li hentai, and there was a whole lot of Chun-Li smothering men with her giant thighs. Also should not be a surprise.

Younger characters were often portrayed wide eyed and quivering. On their backs, half spread eagle, wide eyed and half opening their tops. Or perhaps with a penis in their hand, looking up, innocently. This also was not a surprise, but it was weird how often this would happen to characters who were notably not supposed to be that young. They just fit that archetype.

But then there was Elena from Street Fighter.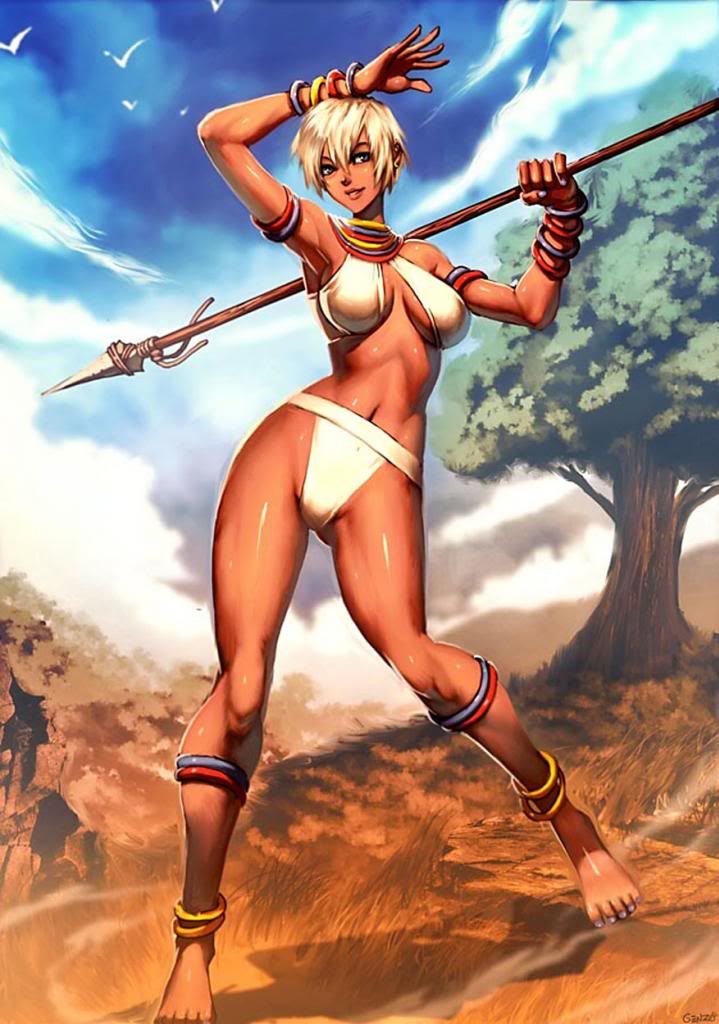 That's how the character looks in Street Fighter 3. She's cute, huh! Perky, athletic, wears a fur-skin bikini, and in every hentai picture she had a goddamn penis.

A huge penis! A throbbing penis. Each one, a bigger, more throbbing penis than the last. Often ejaculating all over the place, or just having ejaculated. As you can see in the picture above, she's a buzomy lady, and in the hentai she would be portrayed as being extra buxomy, with size GGG cup breasts, and a treetrunk sized penis. I don't know why or how, but there was something about this character that, when all the Japanese perverts with art skill got together, they looked at this character, and then they all looked up at each other, and somebody said "So we all agree, underneath that bikini, she's got a huge cock, right?"

Are they making fun of her? Is she more attractive with a giant penis to this particular audience? What the hell is happening here?
------




with love from CRS @ 7:35 AM