Foot Fetishists Are Pushy
Tuesday, June 12, 2012
this entry brought to you by miike snow, "animal"


Webcam girls are not my thing. I should point out that I am a fan of videos of girls in front of their webcam. Sometimes I'm not in the mood for hardcore porn, sometimes I just want to see a girl show her boobs. What I mean is, I don't like webcam.com, where there's 8 girls showing their boobs and 48 guys with cams jerking themselves. It is unbelievably boring. Very little could seem more boring.

But I just noticed today that my favorite porn site has a Live Cam section, and I thought oh, how long has that been there? Ordinarily I wouldn't even bother clicking, but there was a really, really cute girl in the "Who's on now?" section, showing her boobs. So I was bored, I went and clicked.

If you've never been to one of these, there's a chat room to the side that you have to register for, and if you do, you can chat with the girls. I would never register, because the chatting is absolutely idiotic and, moreover, pathetic. Most guys are just there typing variations of "I enjoy this that I am seeing". And of course they're enjoying it. Women be beautiful, and they be doing awesome shit with their awesome bodies. But just people saying "YEAAAAAAAAAH!" is the exact reason I don't go to strip clubs; in a club you have to hear men shouting it drowned under fucking Motley Crue or awful hip-hop, and in a chat room you get to see it scrolling by super duper fast.

There's also an amount of guys who will request things. Which is also insane. "Show your tits!" Well, if she's not showing her tits right now, chances are she will. That's why she's on a webcam portal called "Showstitslivecams.com" Or, if there's a dick sitting right next to her, of course she's going to suck that dick. But maybe the girl is waiting for a request before doing something. But saying "Suck that dick!" from thirty different people isn't going to make any difference! She will get to sucking that dick when she's ready.

But here's what got me. I had two windows open, and I kept flipping back and forth to see it wasn't the same people who also had multiple windows. I would say over the course of 30 minutes I saw no less than EIGHT foot fetishist people, and all they said was:

"FEEET."
"FEEEEEEEEEEEEEEEEEEEEEEEEEEEEEEEEEEET"
"FEEEEET!!!!!!!!!"
"SHOW FEET PLS!!!!!!!"
"FEET FEET FEET FEET"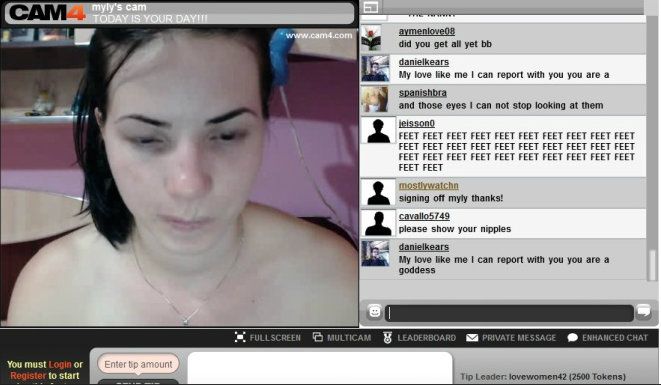 Like an animal begging for food! Listen, even the guys that wanted to see tits weren't just saying "TITS TITS TITS TITS TIIIIIIIIIIIIIIITS" This was behavior specific to the foot people. And it was happening over and over again. Again, to the point where I thought it had to be one dude with both windows open; I scrolled up and down and counted 8, and neither girl showed feet, so I imagine these guys eventually shut up because they just came all over themselves in anticipation of seeing feet, or went to some other cam girl and harassed her until exploding all over themselves in anticipation of feet. I imagine eventually there might have been a girl going "Uhm, okay?" and held up her foot for a couple seconds and BOOM.

Who the hell knew that foot fetishists could be so pushy?

Actually. Yeah, I think I knew exactly that foot fetishists could be pushy.
-----

I wrote this entry several days before I took this picture, and as I was editting it I thought, I'll bet you I can go on that website right now and get a screenshot of exactly what I'm talking about. Sure enough, within a minute of typing the site into my address bar and clicking on a random girl, I was able to find get a screenshot of the exact thing I was talking about. Weirdo perverts will never let you down, if being a weirdo pervert is the thing you are looking for.
-----


with love from CRS @ 4:39 PM